Visit our blog to get helpful design tips, learn tricks for effective signage, discover our process, and more!
At Hightech Signs, we want to help you increase your business's visibility with effective signage. Our blog is an excellent resource for all of our Texarkana, Texas-based customers, and we encourage you to check it out to get insider tips and tricks for effective sign design, find the answers to common questions or concerns, and learn more about our process for designing and installing high-quality custom signs.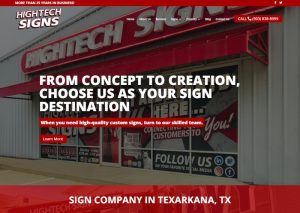 We've been working on a new site for the last month, and we're pleased to say it's finally live!