Get your name up in lights with our stylish and durable channel letter signs.
From strip malls to exterior storefronts, channel letter signs are the best way to get your name up in lights. Channel letter signs are made up of individually illuminated letters or designs that create a complete message, most commonly the name of a business. This type of sign is generally seen on storefront fascia.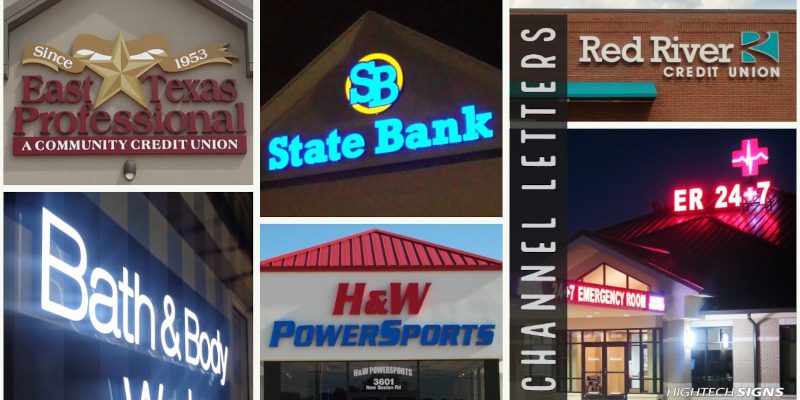 An exceedingly popular choice, channel letter signs are ideal for any business seeking a unique, eye-catching look. At Hightech Signs, we create custom channel letter signs for companies throughout Texarkana, Texas, and our dedicated staff would love to help you get your business's name up in lights.
The letters of channel letter signs are typically made from metal, acrylic, or a combination of both, creating a visually appealing depth and dimension. These durable materials also help ensure that the signs last a long time and can withstand constant exposure to sunlight, rain, and other environmental factors.
Channel letter signs are typically lit with neon tubes or energy-saving LEDs, which are becoming more prevalent in signage today. While lettering is the most common style of channel letter signs we create, additional logos that complement your business name can be designed to your specifications and electrically wired for effect if desired.
Our full-service team has the skills and experience to design, build, and install channel letter signs for your business that will boost your location's visibility and encourage customers to visit your business. We pride ourselves on the convenience and ease of our streamlined sign process and will keep you fully informed as we work on your unique project. To learn more about channel letter signs or get started with the design process, reach out to our office today.