Our custom banners are a great way to get your message to as many people as possible.
At Hightech Signs, our goal is to connect your customers with you. We offer a wide range of sign options to businesses and individuals throughout the Texarkana, Texas area, including high-quality custom vinyl banners.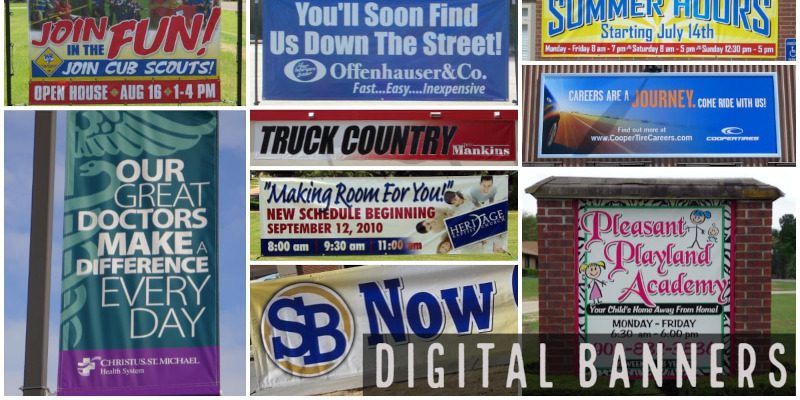 Custom banners are a great advertising solution when you want to make a strong statement. Vinyl banners are a versatile, economical way for any business, individual, or organization to advertise/promote information. Our skilled team can create custom vinyl banners in any size and color, with eye-catching graphics to help get your message noticed. Whether you plan to hang your banners indoors or out, our team will help you design the perfect option to attract as much attention as possible.
We take great pride in the quality of our workmanship and products, and when you trust us to create your banners, you can rest assured that they'll be both attractive and functional. All our banners are made from durable vinyl, so you can reuse them many times for recurring events or leave them hanging without worrying that they'll look worse for the wear in a short time.
Our banners are ideal for a variety of uses, including the following:
Events – Whether you're participating in a tradeshow or farmer's market or need a convenient way to advertise an upcoming event like a grand opening or a big sale, our banners are convenient without sacrificing professionalism.
Stadiums or Sports Arenas – If you have advertising space at a stadium, arena, or other outdoor sporting area, you can't go wrong with a durable custom vinyl banner from our team.
Temporary signage – Get the word out about limited-time sales, seasonal items, temporary closings, and more.
We're passionate about helping our clients make their dreams come true with effective promotion and advertising. Call our office today and let our creative staff assist you with all of your indoor/outdoor banner needs.